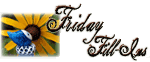 I've been wanting to do one of these for a while...
1. I love springtime in
Houston. Spring and fall are the only times it's bearable. Winter is just disappointing, and the summer is too hot and humid
!
2.
Kolaches and chocolate chip muffins
are foods I love to eat for breakfast.
In fact, I think maybe I'll make chocolate chip muffins tomorrow, if I have time.
3. It seems I'm always searching for
a crochet hook or a bookmark.
4.
Curled up with a book
is a great way to end the day.
5. I think I
could fall asleep right now
!
6.
Indian food
is what I've been craving lately.
7. And as for the weekend, tonight I'm looking forward to
avoiding my daughter and her friend who's sleeping over
, tomorrow my plans include
Eli's first soccer game of the season and reading more of

The Sweet Far Thing
and Sunday, I want to
finish

The Sweet Far Thing
!